what is that shop? well it's an online shop that sells tons of cute "kawaii" Japanese stuff, bento boxes, Rilakkuma merchandise, DIY clay sets, hobby stuff, just tons of stuff for those who like a little sparkle and pink to their life.
you can find their store
here
and
here
on Facebook
i don't feel like i need to say this, but i will just in case. i am not sponsored by anyone i do a review about, i buy all my own stuff so this is my honest opinion not because they gave me it for free
i wish orz
ANYWAY back to the review <3
i placed my order on October 27th, i bought a Rilakkuma iPod and paid $25 for it + $3 shipping.
paid via PayPal - which is an absolute must for me. unless i know the site is a real store (like a mall store) or know someone who has used it i wont buy any other way. why? PayPal favors the buyer like 99% of the time in a dispute, so it's the safest way to buy online. plus you don't want to just be handing out your credit card info to just anyone.
i thought $25 was a bit much for an iPod case, but this looked like a real one and not some cheap knock off so i was like- well w/e it's adorable.
and they sent me an email on the 28th saying it was shipped with a tracking number (although it only says where the package is going, but for $3 that's better than nothing ~) and this statement
"We ship from Hong Kong, therefore, it usually takes between 5-15 business days to arrive. Please be patient. "
of course after my Kiwiberry incident i died inside. why do i always buy from places that ship so slow? but at least this was only $3 instead of $7 and had tracking (sort of)
and wouldn't you know it, only 6 days later i have it here in my hands. how wonderful of them ~
on top of that the packaging was fantastic. this is why i love buying stuff from Asia, they always wrap it up so nice.
it came in an unpaded tie envelope
and inside that was a cute shopping bag wrapping paper
and inside that was a super thick layer of bubble wrap ~
and inside that was my iPod case new in the box and taped closed (i like knowing that it's 100% new, not just in a box) plus a business card and free gift
the case is just perfect, it even has a hole for cell phone charms. how perfect ~
and the free gift? Micky and friends tape. i love it, and it's always such a nice little surprise to get things from shops.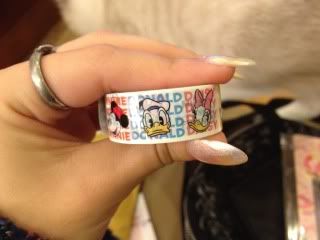 all in all i give this place a 5/5
their website is easy to navigate, they are very good at communication, perfect payment method, and great shipping
i would highly recommend them and i will defiantly be buying from them again ~