i'm going to start by saying i'm sorry, i had my camera on while i did my second hand but when i finished i looked and it was off. it ran out of batteries somewhere in the middle and i didn't notice.
second these are not how i would have liked for them to turn out. it is very different using this on yourself as apposed to on someone else, the bows came out crooked (though i just kept doing them crooked to match) and i don't know why my gel is drying so strangely.
idk
this is just not my day to shine ~
but onto the tutorial
first is everything you will need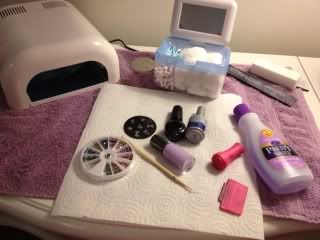 nail polish of your choice (i picked Lacey Lilac from idk the brand. it's the round bottles at Walgreens)
nail stamp plates, stamper, and scrapper (i use Konda products)
rhinestones
UV gel
UV lamp
cotton balls
nail polish remover
a stick to pick up the rhinestones with
now, onto the steps ~
step one
paint your nails. do not put a top coat on (unless you really want to. it's uneeded)
allow to dry completely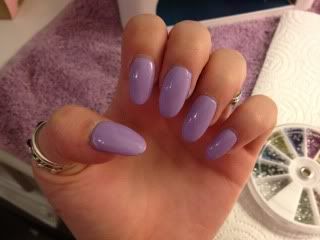 step two
get your nail stamp art tools out, again i use Konda
(you can buy it online or at the Irvine Spectrum Center in Orange)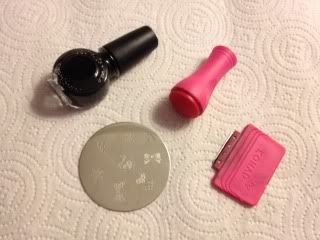 i am using the simple bow stamp on this wheel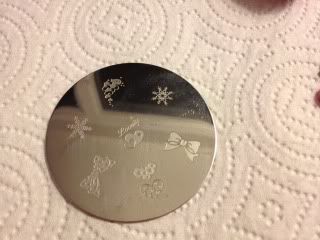 step three
paint the stamp you want to use with a small amount of stamp approved nail polish
you cannot use normal nail polish as it's not thick enough, i have not tried letting my nail polish thick and then using it and don't plan too- but i hear it works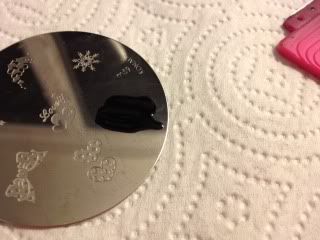 step four
scrape the excess nail polish off with your scrapper tool
step five
stamp the pattern with the stamping tool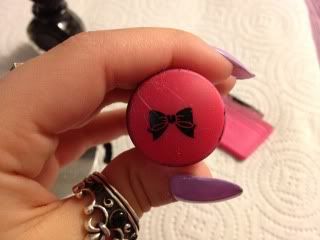 this is not
a good stamp as you can clearly see, it's imperfect and there is cotton ball residue on it. i did not use this stamp but
forgot to take a photo of a clean stamp so- you get the idea.
step six
roll the stamper onto your nail, ROLL do not stamp it on straight down
.
and then you get this.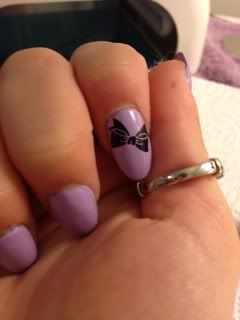 step six and a half
use a cotton ball and nail polish remover to clean the plate, stamper, and scrapper if there is a lot of nail polish build up on it- but rubbing the scrapper on paper towel is just as good
step seven
repeat on all nails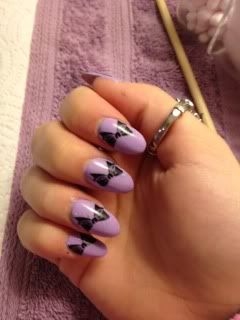 step eight
put a very very light coating of UV gel over all your nails, place rhinestones as desired, then put a little more gel on top. cure for 180seconds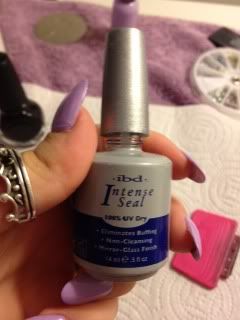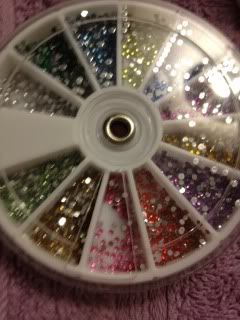 and ta-da you're done ~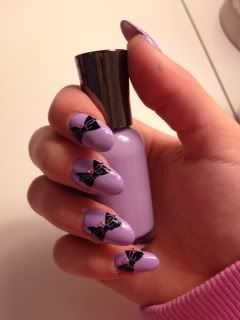 i am satisfied with like... 5/10 nails... yeah pretty bad. i have only ever used this once before on myself (though many times on fake nails and other people) and i have to say IT IS AMAZINGLY more difficult on yourself. the angles are all messed up, and i can't see as well. uhg i am not happy with these "simple" nails.
they look better now that i'm less mad at life though. ha!
anyway, again, sorry about the lack of video. i might do a short one on a fake nail just to add to this. most likely i will. so that'll be out tomorrow if i do it... mmm
good luck