#1
professional flat iron + a heat styling tool holder
heck, have multiple of both! and curling rods, irons, everything. and lots of them.
why professional? higher quality. i prefer ceramic.
i cringe every time i see someone use a drug store heat styling tool on their hair. might as well use an clothing iron.
#2
professional blow drier + concentrator
why use a concentrator? well think of it this way, when you blow a pile of leaves from a distance don't the leaves just go everywhere? same principal. if you blow the air in a concentrated area in only one direction it wont damage your hair as much.
why professional? again, higher quality. especially with blow driers. drug store ones get way way way too hot, don't keep an even temp, and often don't even have heat / pressure settings. you should have at least 3 heat settings, and 2 pressure settings, as well as a blast cool button.
#3 a brush roll + huge makeup pallet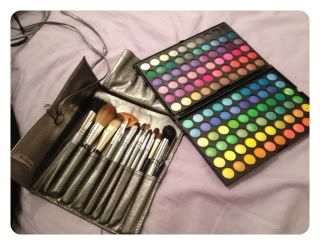 i don't really think brushes make a difference if they're natural hair or synthetic, i think my most expensive brush was $50. so just fill your roll with what you like. i keep a stippling brush, powder brush, foundation brush, fan brush, many different eyeshadow brushes, lip brush, angled powder brush, and spatula in mine. i also keep a mixing pallet with my brushes.
also, keep a Urban Decay Primer Potion with this. that makes all the difference. low quality eyeshadow? not with Primer Potion. ha
#4 UV light + UV gel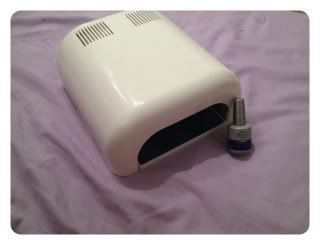 now this is really for the fake nailed ladies out there, but you can get this for $40 and it will literally last you forever or you can spend $15 every 2 weeks when you get your nails done. come on now.
i do use this on my natural nails too and it works just fine. shiny shiny ~
#5 a professional waxing kit
i used to use that microwave wax... never again. messy, unreliable temperature, it's just bad. this kit was $30, that's 1 eyebrow wax depending on where you go. at most 5. and will last you for so long. and it can be used anywhere. not just your eyebrows ~ wax is wax.
(idk what happened to mine but it spilled. i didn't even know cold wax could spill. guess i have to get a new one hahaha)
three more things i think everyone should have ~
a Clarisonic Mia from Sephora. i don't have one... yet. but i will!
a pair of professional sheers. or even ones from Sally's. it's always nice to be able to touch up your own hair. especially if you have straight across bangs that need to be touched up every week or so.
and last but not least ~
an electric eyelash curler. seriously, it will change your life.