link to her Shopping Service PSA
link to her Shopping Service post
link to her LJ feedback
not that she needs any extra support, seeing as she has over 1000 positive notes and no negative on LiveJournal alone ~
but i don't feel people know exactly what they'll get when they shop with her, just that they'll get service that's easy.
i've been using Chibi for so long now, just buying from her on the sales comm or actually using her shopping service. her prices are super reasonable, she responds super quickly, and she's just a friendly person.
i contacted her on the 18th of October, casually asking her if she got things from Black Peace Now, as there was a purse on their site i wanted. she said she did, responded within the day.
she said she did, and but she'd be out of town in the near future so she'd be unable to get it for me on those dates, or ship or anything. i said i understood and would tell her when i knew i wanted it for sure. less than an hour later i did haha
i sent her just my LJ feedback, paypal and a link to the bag i wanted and she went to get it that same day.
if you have enough positive feedback or have worked with her before she wont charge you until after she has your item/all your items.
she invoiced me the next, and i paid, and she shipped.
this was all within a day and a half ~
4 days later it was here. and i have it now ~
she told me when she shipped and gave me a tracking number, and i always do EMS with her, it took 4 days for it to get to me
(it was about $20)
it came in a very sturdy box, taped up nice and tight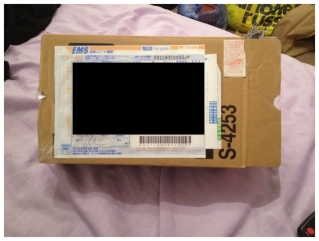 and inside was. . . ~
a Moi-meme-Moitie bag. how nice of her ~
i always buy Moitie from her, so i can't help but think she remembered this and sent me a Moitie bag instead of the BPN bag that she got with my purchase. i can't prove it, but what else would it be?
inside was my purse, which was inside it's own clean plastic bag.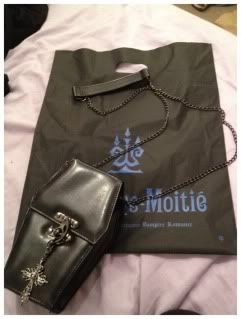 to keep it short and simple, Chibi is amazing. i wouldn't use any other shopping service. if only she did auctions too ~
i love her.
:3
on a side note i love the purse, it's so cute.
it's very small though, i will only be able to keep my phone, camera, and maybe wallet if i find a smaller one. LOL
oh well it's still cute, i usually carry two purses anyway ~